November was another non-stop month with club activities & achievements from our members up & down the coast. Our Education team were busy with a new contingent of Bronze Medallion & SRC holders being put through their paces & achieving their awards. Congratulations to all of those who have achieved these awards & you have now all been allocated a patrol.  Don't forget to register and check the roster in the "Members Portal" on this website for upcoming patrols & a big thank you for participating & in volunteering to help keep our beach safe. Remember this is just the start & point score is on EVERY Sunday to help hone your new skills in a safe & supportive environment. See you there!
Our next Bronze & SRC course begins on 30th January 2018. Check out the calendar and/or Facebook page for latest times & dates.
Surf sports featured heavily on the agenda in November, with Soldiers competitors punching well above their weight again. Firstly, our Masters team bagged the silverware at the Toowoon Bay Masters Carnival. A small but dedicated crew contested every event in both beach and water and the point scores announced this week put Soldiers Beach ahead of the pack with 245 points, ahead of Toowoon Bay on 168 & a strong Shelly Beach crew on 119.
Another standout performance was Tori Coppens' win in the U/19 Newcastle Permanent Ironman series round. Tori overcame a competitive field to take out the round with a masterful display of surf skills. Check out the clip on our Facebook page. Congratulations Tori great work.
Another notable performance in the surf sport arena was the small but hardened crew who attended the Umina junior carnival. Held in what can only be described as appalling conditions, this small but dedicated crew flew the flag for your club and put the green & white on the beach in both beach & water events on a day where dedication & persistence were the winners. The same hardy crew backed up again for the Terrigal carnival with solid performances on the beach & in the water.
A big thanks to the parent helpers who manned the barricades with the tent set ups, water safety & official duties. Just a reminder that the club does have a responsibility to supply a quota of officials & water safety based on the number of competitors entered & we do need to supply these people for our teams to compete.
Even our boaties got in on the action with our masters' A crew, the 9 volters, taking out a third place in the Streets Central Coast Boat Series held at Terrigal. Our Masters B crew, the Fupas, managed a credible display making a final in the Swansea Belmont round & our u/19 girls continue to excite with smiling performances at Terrigal, Swansea & most recently at the Tea Gardens Hawks nest round of the event coming away with a place in the final at each round. Our reserves crew continues to entertain at every round & it is a welcome sight to have over 20 competitors under the Soldiers tent at every round of the series. Again you can check out the latest round of photos & clips from these events on our Facebook page.
Remember the final of the series is at your beach in March. Next month is a busy one for Soldiers on the surf sport front. We have a master's carnival & a round of the Newcastle permanent Ironman series at our beach along with the Branch Champion lifesaver event in February. We will be relying on assistance from our members to hold these carnivals so watch out for the call & give your club a hand & help support your club members who are participating.
On the Nipper front it has been an exceptional start to the season. The hard work put in in the "off season" is reaping rewards with the nipper program in full swing. Another thank you to our age managers, water safety & BBQ crew who give their time each week for our nipper program. The success is evident by the smiles on the faces of our nippers every week as they participate.
This season, as part of a branch wide initiative Soldiers participated in a "Nipper inclusion program" for special needs nippers. Another note of thanks here to our helpers for volunteering to assist with this program. This was one of the most rewarding & enjoyable things that I have experienced in surf lifesaving & our Soldiers Seals & their parents were evidence of this with their enjoyment & participation in the program. Onward & upward for this program again next season.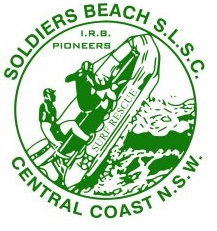 This month Soldiers also dedicated its' new IRB to a legend of the club Kees Van Ypren who, in 1976, with another club legend Cliff Spong crossed Bass Strait in an IRB to display the versatility & effectiveness of the IRB in lifesaving operations. The efforts of these 2 "pioneers" changed the face of surf lifesaving into the modern-day service we are part of today. Our club logo pays homage to our part of this history made possible by these men. Sadly, Kees passed away & this dedication is recognition of his efforts & contribution to both Soldiers Beach Surf Club & the surf lifesaving movement nationally.
Soldiers is hosting a fundraiser with assistance from the WRLCG in January.  Heroes & Villains is is a sportspersons dinner hosted by former Australian rugby league legends Max Krillich & Terry Lamb. Tables of 10 @ $65 a head & includes dinner. Check out our Facebook page for details & get a table together to help support your club it will be an exceptional night.
Please remember our sponsors & support them where you can – these people keep us on the beach & we could not do what we do without their support.
With the festive season upon us the Management committee takes this opportunity to wish all a Happy & Safe Christmas. Don't forget the Surfing Santa on Christmas day if you are around & a big thank you to all our volunteers for your efforts this season so far. Thanks to the patrols who will look out over our visitors over the break & we look forward to seeing you all back for the rest of the season in 2018.
See you all on the beach. GO SOLDIERS!
Author: Jim Buckton – President