As of 11am today SLSNSW have issued a directive that all patrols will cease for the remainder of the season.
Please see link for SLSNSW update: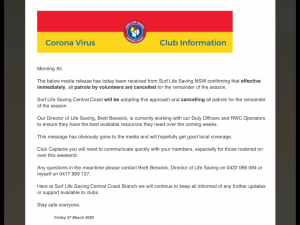 https://www.surflifesaving.com.au/resources/coronavirus-covid-19-updates-resources-slsnsw-members
All members of our emergency call out team will still be on standby and may be contacted by Branch Duty Officers if required.
NOTE: ALL PATROLS ARE CANCELLED FOR THE REMAINDER OF THE SEASON. DO NOT ATTEND PATROLS.